Primary Healthcare Conferences Readership Profiles: Key Metrics (Source: Google Analytics)
A statistical representation of global users for primaryhealthcare.conferenceseries.com(Source: Google Analytics)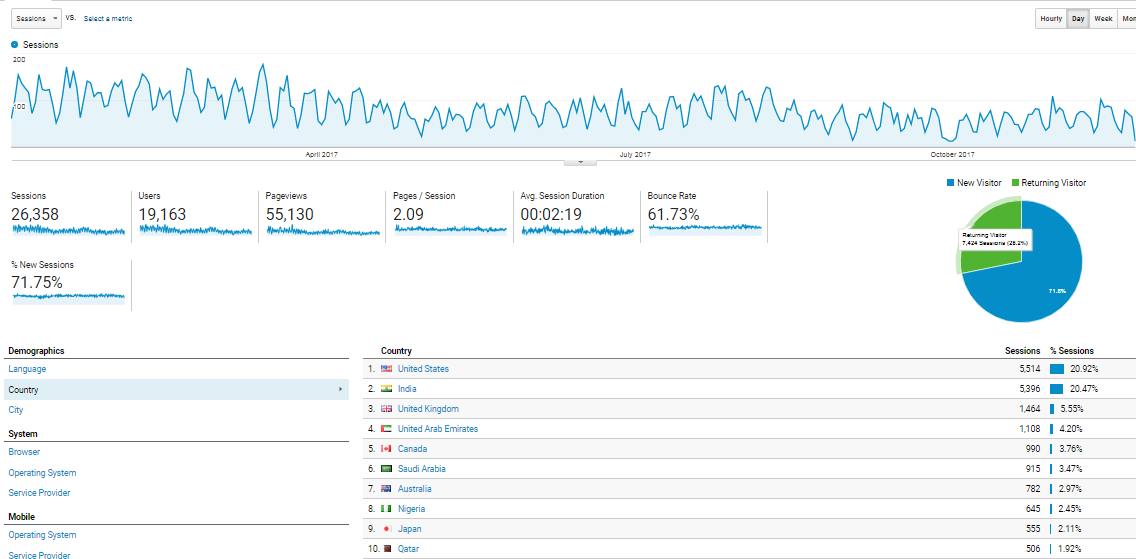 The dashboard of Google Analytics traffic overview of "6th Annual congress & Medicare Expo on Primary Healthcare Conference" clearly reflects the interests of the global enthusiastic conference attendees like Academicians, Nurses, Nurse practitioners, Nursing researchers, Nursing Instructors, Healthcare Professionals, Healthcare Administrators, Physicians, Surgeons, Nursing Lecturers, Nursing Training Institutes and, students, Organizations and other key stake holders from Healthcare and Medicine space who are searching to attend and present/exhibit their research/organization findings on highly acknowledged international conferences like ours with the web traffic a total of 26,358 Sessions. The total page views were 55,130 where our reports are analysed yearly.
Primary Healthcare 2018 Google Analytics Metrics: At Glimpse:
More than 60000 Visitors visiting conference website to attend and submit proposals
Highest number of Visitors reporting both from the developed and developing nations
For Under developing nations researchers our conference website is yardstick to quantify their research proposal submitted
Majority of the visitors have come from 10 countries/territories from United States, India, United Kingdom, Malaysia, Russia, United States, Australia, Saudi Arabia, Turkey, Indonesia, Singapore, and Egypt.
Penetrating the study of visitor, navigation, and traffic patterns to determine the success of our conference website majority amount of traffic we receive from Cities like Texas, Hyderabad, California, Kuala Lumpur, Saint Petersburg, Melbourne, Bengaluru, Sydney, Bishkek, Singapore, etc.
Average Time spent by each visitor on Site is 2:07 minutes.
The Traffic Sources mentions that the number of Unique Visitors of the website listing from renowned universities, research institutions and organizations.
Reasons behind listing Nursing Educations on top of search engines: (Source: Google)
Researchers are inclined only to the conferences where their profiles and abstracts get highest visibility and readership.
The most accessible way for researchers to grow their research profiles is through their contributions with a conference presentation at our conference.
Our Conference provides opportunities to network and meet other researchers in their field and establish potential contacts for future positions.
Attending and presenting at our conference would contribute to learn about the most recent advances in their field.
Get an opportunity to publish full paper in our international journals with high impact factors on Special issues.
Besides all these factors we also create individual speaker pages where their accepted biographies and abstracts are updated on regular basis for promoting their web presence in all the search engine listings and Social Networking Channels.
25000 Primary Healthcare Doctors and Experts | Online Readers | 40 Million Visitors | Healthcare Meetings | Conference Series
ConferenceSeries Ltd takes immense pleasure to extend our warm welcome to invite all the participants from all over the world to attend 6th Annual Congress & Medicare Expo on Primary Healthcare, May 14-16, 2018 Tokyo, Japan which will entail lively debates, prompt keynote presentations, Oral talks, Poster presentations, workshops and networking opportunities around a core of plenary and concurrent sessions based on pivotal issues in the Primary Healthcare sector.
Conference Series teams with CED, a Joint Accreditation Provider, as Joint Providers of accredited continuing education activities for the healthcare team consisting of physicians, nurses and pharmacists. As Co-providers, all activities are planned and implemented in compliance with the educational standards of Joint Accreditation formed by the accreditation standards and essentials of the ACCME, the ACPE and the ANCC. Complete activity information is presented at the activity and on the activity web page
ConferenceSeries Ltd Organises 1000+ Conferences every Year across USA, Europe & Asia with support from 1000 more scientific societies and Publishes 700+ Open access journals which contains over 50000 eminent personalities, reputed scientists as editorial board members.
Summary: Primary Healthcare 2018 is a forum to explore issues of mutual concern as well as exchange knowledge, share evidence and ideas, and generate solutions. The main focus of Primary Healthcare 2018 is to present research findings, discuss research methodology and policy issues, and build and maintain essential networks between researchers, practitioners, policy makers and representatives of consumer organisations. Primary Healthcare 2018 works with the theme "Evidence and Innovation in Primary Healthcare" aims to discover advances in health practice, management and education in relation to health disparities as well as a breadth of other topics. Patients with access to a regular primary care physician have lower overall health care costs than those without one, and health outcomes improve.
Target Audience: Primary Healthcare Practitioners, Family Medicine Specialists, Primary Healthcare Researchers, Primary and Community care Specialists, Public Health Specialists, Internal Medicine Physicians, Primary Healthcare Associations and Societies, Business Entrepreneurs, Training Institutes, Software developing companies, Manufacturing Medical Devices Companies, Data Management Companies.
Scope and Importance of Primary Healthcare 2018:
The conference will be organized to bring together practitioners, administrators, policy makers, politicians and researchers within the field of primary health care and public health. Conference themes will focus on issues related with Innovation, Sustainability, Equity, Critical thinking and Uncertainty. Internationally there is increasing recognition of the importance of the primary care system for improving health outcomes and managing costs. Stronger primary health systems are associated with better health outcomes and lower costs, particularly for children. The World is changing and so are health services. Urbanization and globalization have its' impact on what is needed from health care providers and subsequently how health care is organized. More and more cities and other local authorities become increasingly important for the health of their citizens.
Why to Attend???
Primary Healthcare conference is an opportunity to meet others within speciality to network and to learn the latest healthcare information. Improved primary health and community support also has the potential to prevent hospital admissions, particularly for ambulatory sensitive conditions. As well, better primary health and community support can also prevent inappropriate and unnecessary use of residential care services. It will also provide insight to the novel inventions and techniques. It is very beneficial for the Healthcare practitioners and fellowship owners because it provides knowledge in the field. It also gives opportunities to the companies to showcase their products and have face to face meetings with scientists increasing their business opportunities. It also gives companies to know about their market competitors.
Exploring Emerging Markets in Primary Healthcare
The Global Healthcare spending is expected to accelerate, rising an average of 5.2 percent a year in 2014 -2018, to $9.3 trillion. Demand for primary healthcare is set to increase steadily over the medium to long term. Between 2010 and 2035, the total global population will grow by 15%. Population growth is currently at 0.8% per annum for 2010 to 2020, faster than any decade in recent history. The population is set to reach 8.5 billion by 2030. This increase in population, in particular the number of elderly, will have a significant impact on demand for the healthcare sector henceforth rising demand for the Primary Health Care market. Most of the world's regions are facing a formidable challenge to manage the rapidly increasing cost of health care. By 2018, the number of high income households (those earning over $25,000 a year) will rise globally by about 30 percent, to nearly 570 million, with over one-half of that growth coming from Asia. Governments in some of these markets are expanding public health care services to meet citizens' rising expectations, while in all markets, advances in health technologies.
Global Internet users for conferenceseries.com: Statistical representation (Source: Google Analytics)
Flip on the other side Conferenceseries world's leading specialist in organizing scientific conferences, events trade, and consumer exhibitions both domestically and internationally in different verticals and horizontals like Medical, Pharma, Engineering, Science, Technology and Business attracting more than 25 Million+ Visitors, 25000+ unique visitors per conference and 70000+ page views for every individual conference would help in quantifying our presenters research and biography visibility to the online communities and get recognized worldwide.
Conference Series Web Metrics at Glance: Source: Google Analytics
25 Million+ Visitors
25000+ unique visitors per conference
70000+ page views for every individual conference
Out of the 500,000 listing worldwide major conferences attended by 2.5 million attendees 16.8% attendees are drawing only from our Medical, Pharma, Healthcare, Nursing, Engineering, Science, Technology and Business conferences. The main reasons behind the increased popularity of our conference attendees is because of the changing mindsets of academicians, researchers and industries in exploring the opportunities for exchanging ideas, sharing resources, building networks and increase awareness of the on the recent happenings in their research around the world.
"Attending and presenting at conferences remains as the most favorable model of knowledge dissemination for researchers and practitioners to keep abreast of all advances in their field, presenting state-of-the-art research usually on a variety of subjects"
We will continue to set our bar higher and make further progress to organize 1000 conferences in 50 countries across all continents by 2018. We have recently launched online digital video library where all our conference proceedings would be shared and be accessed by the online communities freely.
Channels for driving additional traffic to your research
Web Analytics are best means of measuring concrete details like how many people are visiting our websites, how many of those visitors are the unique visitors and how many of them are staying long to view the complete information available in our sites. The following snapshots of some of our websites will clearly depict the metrics how our conferences stand at par to the other conferences in terms of Visibility, outreach, Participation Number and relevance to their subject.
The metrics of these websites represents more than 25+ Million visitors in addition to this we also equipped with 10 additional scientific websites represents 10+ Million visitors traffic to our conference websites.